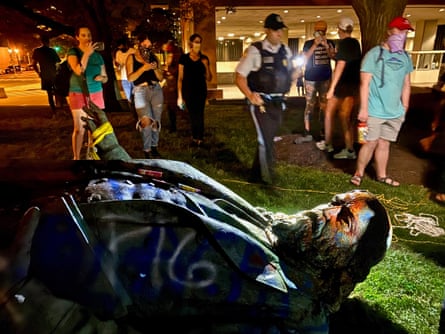 I found it interesting that leftist mobs tore down the statue of 33rd Degree Freemason Albert Pike last week. Albert Pike was a Confederate general and the Sovereign Grand Commander of the Supreme Council of the Southern Jurisdiction Scottish Rite of Freemasonry. He was also an avowed Satanist and openly admits in his book Morals and Dogma who the god of Freemasonry is – Lucifer.
"Lucifer, the Light-bearer !  Strange and mysterious name to give to the Spirit of darkness!  Lucifer, the Son of the Morning!   It is he who bears the Light, and with its splendors intolerable, blinds feeble, sensual or selfish souls?   Doubt it not!" – 33rd Degree Freemason Albert Pike in Morals and Dogma, Pg. 321
"But Lucifer, god of light and god of good, is struggling for humanity against Adonay, the god of darkness and evil." – Albert Pike, 1889
Albert Pike was commissioned by the Illuminati in the 1800's to incite insurrection in the Southern states prior to the Civil War. It was a strike by British Illuminists to split the Republic in order to destroy it. He was also the founder of the Ku Klux Klan, a secret society that branched from the Knights of the Golden Circle, a fact that mainstream "history" conveniently leaves out while labeling General Nathan Bedford Forrest as the supposed "founder". Pike was never mentioned in my "history" class when I went to school. Another Masonic cover up and lie. His statue was the only monument of a Confederate general in Washington D.C., though it's purely a commemoration of his Masonic background rather than his Southern military background. The House of the Temple, which is the headquarters of the Southern Jurisdiction of the Scottish Rite, is in Washington D.C. located exactly 13 blocks from the White House, and it can safely be said that Washington itself is a Masonic capital if you understand the symbolism of the street layout, buildings and monuments.
Did the mob know all these facts and understand Pike's Masonic roots, or did they just act out of sheer emotion and saw his statue as another "Confederate monument" that needed to be toppled? Who knows, I tend to believe the latter though. Revolutions always eat their own like a snake biting its own tail. I do know this however, President Trump is requesting that his statue be restored and it's the only statue that Trump has openly called to be re-erected. I think that speaks volumes about Trump and who he really represents.
Honestly, I was happy to see Albert Pike's Masonic statue toppled, even though it was toppled by a mindless anarchistic mob. That man was an agent of Satan and the toppling of his statue is a thumb in the eye of the Masonic Lodge. It should be replaced by a statue of Captain William Morgan who was murdered in 1826 by the Freemasons for exposing their secrets and whose death subsequently sparked a short lived anti-Masonic movement in America.
The battle that we are witnessing in the streets of America is the latest battle of an ancient war between the "dark" and the "light". It is the thesis against the antithesis out of which will bring a synthesis of the two. Those that follow Qanon will recognize the saying "Dark to Light". It's an esoteric motto that goes completely over the heads of most of Q's cultish followers. The so-called "light" represents the English branch of Freemasonry, Zionism, wealth, corporate fascism, the Eastern Establishment, all of which Trump is rooted in. It's the Rockefeller Family, the Rothschild Banking Family, and Wall Street. It is mainly Protestant, white, middle to upper class, and right wing (White Anglo-Saxon Protestant). Though it has a Protestant facade, its occult roots are pagan, pantheistic, and New Age. It has its roots in the old British aristocracy as well as the old kingdoms of Europe and dominates London as its financial headquarters. It is what established the State of Israel and is primarily using racial supremacist Zionism as the main vehicle in its contest for world domination. Adolf Hitler was a product of this "light" occult side and mentioned the struggle between the "armies of light against the forces of darkness" in many of his speeches. This side is Luciferian and views Lucifer as a god of "light", a god of good that simply wanted to set man free from bonds of ignorance in the Garden of Eden.
The "dark" represents French Freemasonry, the underclass, the poor downtrodden masses, democracy, socialism, and communism. It is atheistic and left wing. It is anti-business and unskilled labor; i.e. proletariat. It is primarily using the poor and people of color as its foot soldiers for world revolution. It was the Jacobins of revolutionary France and the Bolsheviks of revolutionary Russia. It was the driving force behind Jesuit Liberation Theology in South America from the 1950's-70's, and controls the Vatican and the current Pope. At its core, it is a nihilistic beast that embraces the tenets of Satanism and all of its overt darkness.
And that is why I don't pick a side in this war. In my eyes, both sides represent darkness and will ultimately lead to the same thing no matter which side wins. There is no "lesser of two evils" in this fight, it's all evil and I stand against it in all its forms as should everyone. Unfortunately, most Christians in America have been beguiled and sucked into following the occult "light" instead of following the true light which is Jesus Christ. They don't understand the trap that has been set for them by their enemy. They view the other side as their only enemy instead of taking a step back and looking what their "side" is rooted in as well. Thus, a remnant is all that is left outside of this paradigm. But world and Biblical history has shown that a remnant is all that is needed, so I'm not worried. The divisive political battles that are being waged mean nothing in the scheme of things, the real battle is spiritual. Both sides are merely struggling to overtake the other in order to force their brand of tyranny on the whole. Remember this – no matter which side prevails, evil wins. This has happened before and it didn't end well for that country nor its citizens. How foolish of us to ignore history when the signs of our destruction are flashing before us. Pray fervently that God will have mercy on this country.
A Citizen